Casio Develops a Digital Art Frame That Transforms Snapshots into Works of Art Using Picture Alteration Technology
Next-Generation Digital Imaging Product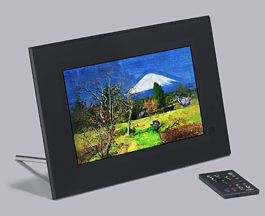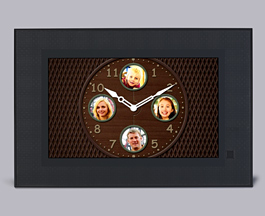 TOKYO, January 7, 2010—Casio Computer Co., Ltd., announced today that it has developed a revolutionary digital imaging product that changes ordinary snapshots into works of art. The new Digital Art Frame uses a "snapshot-to-painting conversion" function to give everyday photographs one of many beautiful artistic looks. The new product will be available in the spring of 2010.
Casio's new Digital Art Frame is unlike any conventional digital photo frame. Going beyond the fun of decorating home or office with a revolving view of favorite snapshots, Casio's new product can actually create original photographic artworks and images, making it more enjoyable than ever to share snapshots with others.
A truly next-generation digital imaging product, the Digital Art Frame features a snapshot-to-painting conversion function that gives ordinary snapshots the look of lovely works of art using image recognition and image processing technologies. Users can create up to eight different authentic styles of art from a single photo at the push of a button: Water Color Painting, Color Pencil Sketch, Pastel Painting, Pointillism, Air Brush, Oil Painting, Gothic Oil Painting, and Fauvist Oil Painting. In addition, with Casio's superior face recognition technology built in, the Digital Art Frame can create a work of art that highlights the faces in the photo, ensuring that people's faces are completely recognizable. Moreover, users can enjoy slide shows with automatic playback of photos, art, or both, just by inserting an SD card with photos on it.
The product also comes with Dynamic Photo, a popular function in Casio's digital cameras that enables the creation of composite moving images. User can combine moving characters directly on the Digital Art Frame. Not only that, with the included Art Dynamic Photo function, which applies snapshot-to-painting conversion to the Dynamic Photo images, users can create moving works of art to impress and entertain family, friends, and guests.
The Digital Art Frame also uses Adobe® Flash® Lite™ playback technology, which allows users to display preset Flash content, such as clocks and calendars, to add an accent to just about any type of interior space. They can also download additional content from the internet. Or they can use family photos to make their own homemade clocks and calendars, by combining the Dynamic Photo and snapshot-to-painting conversion functions on the Digital Art Frame and images from a Casio digital camera with high-speed burst shooting.
Packed with all these new features, Casio's new Digital Art Frame is a quantum leap beyond conventional digital photo frames, which really do nothing more than replace photo frames for printed photos. Casio's Digital Art Frame unleashes the full creative potential of every user, providing entirely new kinds of fun with creating and sharing images. Once again, Casio has crossed a new frontier in digital imaging.
Main Specifications* of the Digital Art Frame
*

Applies to the prototype and so may differ from the actual product.
Display
:
10.2-inch WSVGA color LCD
Internal Memory
:
2 GB
Card Slots
:
SD × 1
Compatible Cards
:
SD/SDHC
Input-output Terminal
:
USB (Type A) × 1
Audio
:
Stereo speakers
Connectivity
:
Wireless LAN (IEEE802.11b/11g)
Power Source
:
AC100-240V
Compatible Files
:
Still images (JPEG/BMP/PNG/RAW), video (Motion JPEG), audio (MP3/WAV)
Main Functions
:
Picture alteration, slideshow, Dynamic Photo, index display, automatic
recognition of height and width, rotation, zoom, clock, calendar, alarm
Power Saving
:
Automatic display on/off using viewer proximity sensor, light sensor, and
schedule setting, automatic power on/off
Size
:
314×208×30mm
Weight
:
1.25kg
Adobe and Flash are trademarks of Adobe Systems Incorporated.