Smart Devices Fill Specific Needs to Maximize Family Time Outdoors
American fathers want to spend 23% more time with their children outdoors
Casio Computer Co., Ltd. recently issued its 'Smart Fathers Outdoor Device Survey' to coincide with Father's day. Modern fathers are busier with more roles to play but the integration of smart devices into daily life is creating some advantages for them. In their role as outdoorsmen, avoidable conditions like weather, can humble even the most skilled fathers. Now, purpose-built smart devices are helping them overcome these challenges and succeed in their roles as modern fathers.
Smart Fathers Outdoor Device Survey
Full Results (PDF / 2.23MB)
Casio has been developing innovative watches since the 1970s, and later developed PDAs and cellular phones from the 1990s into the 2000s. The company has now translated these experiences to develop an Android Wear wrist device that is optimal for outdoor activities such as trekking, cycling, and fishing. According to IDC, the global wearable device market is expected to experience double-digit growth from 2015-2020 and ship a projected 237.1 million units by 2020.*
Casio launched the WSD-F10 Smart Outdoor Watch in March 2016 in Japan and the U.S. The new WSD-F10 wrist device boasts water resistance for use in rain and around water, and is tested to military standard specifications to ensure it can withstand a variety of rugged activities. The WSD-F10 also offers a wealth of useful original Casio applications. Among these are dedicated apps designed to measure changes in the natural environment and track activity levels. The device is powered by Android Wear, and users can also load their own apps to expand the feature set for diverse outdoor activities.
Fathers would trade 4.2 hours with their friends for 1 hour with their children
Modern fathers have more responsibilities inside and outside the home, so the time spent with their families is valuable. On average, men in the US, Germany and Japan would trade 4.18 hours of time spent with their friends for 1 hour of time with their children. Despite this, many dads feel they are not spending as much time as they would like with their children. When comparing their desired time versus their actual time spent, fathers in the U.S. want to spend 23% more time with their children in the outdoors, in Germany they want to spend 34% more, and in Japan this jumps even further to 113%. But purpose built products are helping fathers maximize the time they do spend with their children. Smart devices designed for the outdoors ensure that fathers never miss beautiful moments with their family such as a sunrise or sunset, or are caught out in bad weather cutting their family outing short.
Helping fathers to entertain with purpose-built products
The line between a cool and an uninspiring dad can be as fine as the fishing line cast at the peak time to catch a fish! Many men feel that cool dads need to entertain their family, show off their outdoor skills, and display their ruggedness. But avoidable situations can disrupt even the most thought-out plans. Technology offers fathers an advantage by helping avoid bad weather, selecting the best time for fishing, or sending reminders for viewing the perfect sunset or night sky with their loved ones. These advantages leave fathers with more energy to focus on what's important – being the best dad to their children.
Potential smartwatch owners desire durability for outdoors use
The great outdoors is the latest segment penetrated by smart devices but smart devices must have a specific purpose before they are more widely adopted. The 'Smart Fathers Outdoor Device Survey' found that consumers in the U.S., Japan, and Germany who bring smart devices along to their outdoor activities feel durability is an essential characteristic. For smart devices used outdoors, American and Japanese consumers demand greater battery life, durability, and water resistance. Alternatively, German consumers rank durability as the most desirable trait. When comparing devices, more than 2/3 of American, Japanese, and German fathers take a smartphone when they participate in outdoor activities, but only 1/3 of American fathers bring a smart watch. Would more consumers adopt smart watches for outdoor use if manufacturers offer purpose-built traits?
Use of smart devices for outdoor activities
The most important trait people who use smartwatches for their outdoor activities desire is "durability," while "water-resistance" and "battery life" are also desirable.
39.3% of consumers in the U.S., 17.0% in Germany, and 2.7% in Japan use a smartwatch for their outdoor activities. The devices are more prevalent in the U.S. and Germany whereas fewer Japanese consumers own a smartwatch.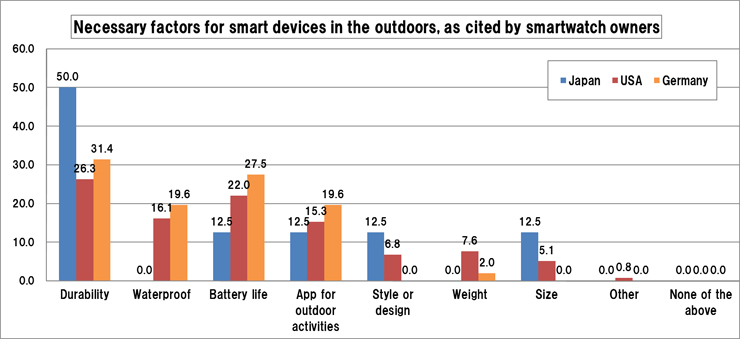 Fathers want to spend more time with their children in the outdoors
When it comes to time spent with their children for outdoor activities, fathers around the world do not spend as much as they would like. Comparing the actual time fathers spend with their children versus their ideal time, fathers in the U.S. want to spend 23% more time, German fathers want to spend 34% more time, while Japanese fathers want to spend almost double the time at 113%.
When fathers were asked how much time spent with their friends they would trade for one hour with their children to enjoy the outdoors, on average among the three countries, fathers felt that 1 hour with their children is worth 4.18 hours with their friends. Separately, fathers in America would trade 5.8 hours with their friends, in Japan they would trade 3.83 hours, while in Germany they would trade 2.92 hours.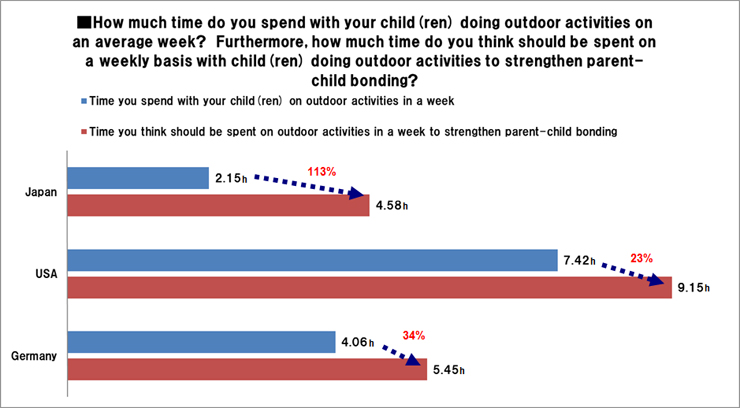 'Entertainment' a key role for fathers during outdoor activities
"Entertaining the family" was selected as the most important role for fathers when enjoying the outdoors in the U.S. (47.7%), Japan (54.3%), and Germany (63.3%).
Other roles that fathers felt were important to play were "possessing knowledge about nature and weather" and "planning and preparation."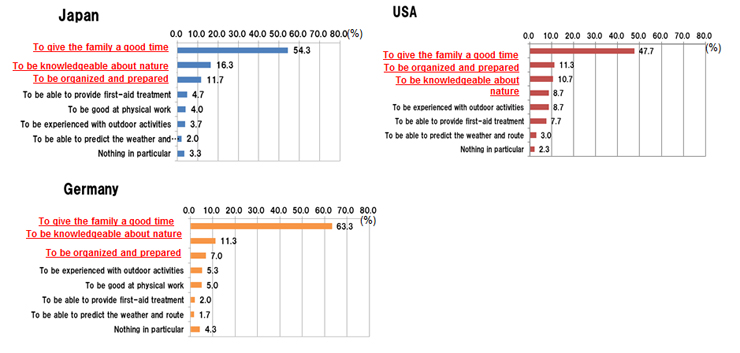 Smart device ownership
On average, consumers in America have two smart devices, in Japan consumers have one smart device, while in Germany they have one or two.

Spend on outdoor good
In a typical year, the amount fathers spend on outdoor goods in the U.S. is 500-1000 USD, in Germany is 100-300 EUR (111-333 USD), and in Japan is less than 10,000 JPY (90 USD). However, most fathers would like to spend over 1000 USD, if given the opportunity.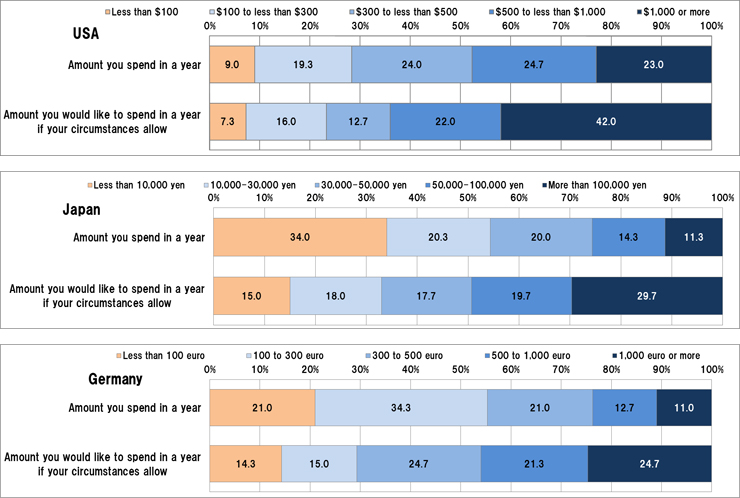 Benefit of outdoor activities
Fathers in all countries feel that "curiosity," "an adventurous spirit," and "a sense of independence" are the most important benefits that children acquire by participating in outdoor activities.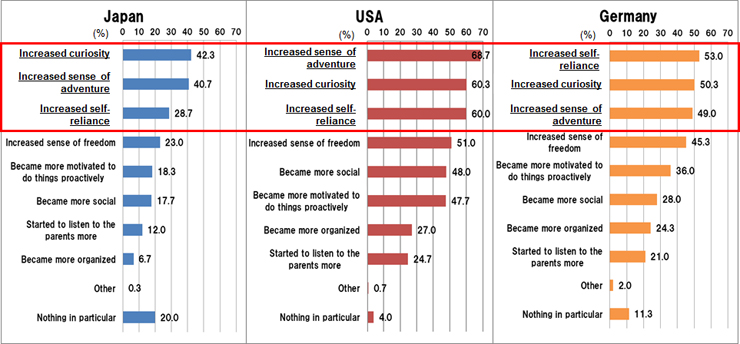 Survey Methodology
Survey date

2016/4/25 — 2016/4/27

Target countries

Japan/USA/Germany

Panel

Fathers aged 20 to 59, who participate in outdoor activities with their children

*

* Outdoor activities include: trekking, hiking, camping, fishing, surfing, marine sports, canoeing, rafting, skiing, cycling, touring, cross-country skiing, sky sports, bouldering, birdwatching, beach activities, hunting, etc.

Samples

300 samples per country

Methodology

Online survey