Casio Releases Voice Recorder App with English Keyword Search Function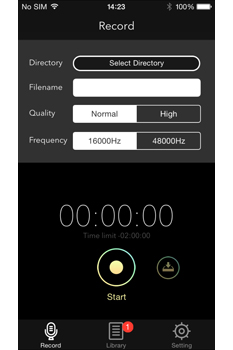 Recording screen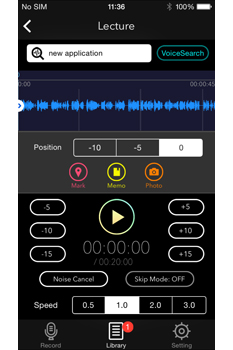 Keyword entry and search screen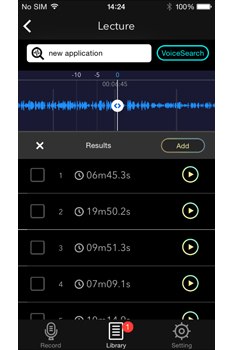 Search results screen
English (US) Keyword Search Voice Recorder
TOKYO, April 22, 2015 — Casio Computer Co., Ltd., announced today the release of the English (US) Keyword Search Voice Recorder, an iPhone app that lets users search for words in an audio file. If a user wants to search for a word recorded during a lecture or meeting held in English, for example, he or she only needs to input the word (alphabetically or with phonetic symbols) and the app will automatically search for it. The app is available from today at the Apple App Store.*1
*1 Please check the price at the App Store.
Applying its original Keyword Search Technology for English Voice, Casio developed the English (US) Keyword Search Voice Recorder iPhone app to enable new ways of learning and improving efficiency at work. If the user searches for "new application," for example, the app displays sections of an audio recording that either contain this phrase or are highly likely to contain it.*2 The user can then quickly find what he or she is looking for by listening to the sections. The app is also equipped with handy functions for improving listening efficiency, such as the Silence Skip function and the Variable Speed Playback function.
*2 Sometimes the targeted words cannot be detected due to characteristics of a speaker's voice or recording conditions. Likewise, the app may detect sections containing similar sounding words rather than the targeted words.
English Keyword Search function lets users search for targeted words
This function converts English words entered alphabetically or with phonetic symbols into audio data in the app. It then compares the sound characteristics of recorded audio and finds similar sounding sections in the audio file, displaying them by the minutes and seconds from the beginning of the recording where they occur. After listening to the search results, the user can tag whichever sections are needed.
Various useful functions for editing and optimizing audio playback
The Silence Skip function shortens the playback time by skipping sections where there is no voice data
The Variable Speed Playback function plays the audio from 0.5 to 3 times the original speed
The Noise Cancelling function makes the audio easier to hear by cutting out background noise in the recording setting, such as lectures or meetings
The Skip Seconds function omits a specified number of seconds during playback
Tag allows users to paste marks, memos, or photos during recording or playback
Import allows users to import audio files from other apps
English (US) Keyword Search Voice Recorder Main Specifications
Recording Mode

Quality

Normal

IM-ADPCM

High

Linear PCM

Frequency

Normal

16000Hz

High

48000Hz

Function

Tag

Mark, Memo, Photo

Other Functions

Record / Pause, Save file

Library Mode

Library Interface

Search file names, Play/Delete file, Rename file, File sharing (Air Drop and so forth)

File Details Interface

English (US) Keyword Search (Results List, Results Tag), Silence Skip, Skip Seconds, Noise Cancelling, Variable Speed Playback

Tag

Mark, Memo, Photo

Settings

Tag Position

Default: 0 sec, -5 sec, -10 sec
Selection: 0 sec to -30 sec (5 sec increments)

Skip Seconds

Default: 5 sec, 10 sec, 15 sec
Selection: 1 sec to 20 sec (1 sec increments)
20 sec to 200 sec (5 sec increments)

Playback Speed

Default: 0.5x, 1.0x, 1.5x, 2.0x
Selection: 0.5x to 3.0x (0.1x increments)

Compatible Operating Systems

iOS 7.1 or later

Compatible Devices

iPhone 6 Plus, iPhone 6, iPhone 5s, iPhone 5c, iPhone 5, iPhone 4S, iPod touch (5th Generation)
Apple and iPhone are trademarks of Apple Inc., registered in the U.S. and other countries.
App Store is a service mark of Apple Inc.
Other product names and so forth are generally trademarks or registered trademarks of the respective companies.