Casio Releases iPhone App That Lets Users Easily Compose Their Own Original Music
Automatically Composes an Entire Musical Piece from just a Two-Bar Melody
January 30, 2015
Revised February 5, 2015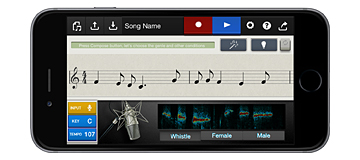 Microphone input interface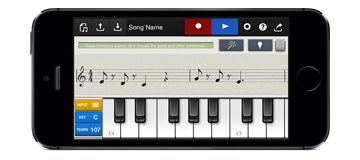 Keyboard input interface
TOKYO, January 30, 2015—Casio Computer Co., Ltd., announced today the release of Chordana Composer, an iPhone app that automatically composes a musical piece based on a two-bar melody*1 created by the user. The app is available at the Apple App Store today.*2
*1 The melody is about 4.5 seconds in length if the tempo is set to the default of 107 beats per minute. The musical piece can range from 30 to 110 bars in length. These variations depend on the automatic composition settings.
*2 Please check the price at the App Store.
Casio announced the release of its first music app in October 2013. To date, it has released four types of music apps, including Chordana Viewer, which automatically detects the chord progressions of songs, and CZ App for iPad, which recreates Casio's classic CZ series of synthesizers. These products have won acclaim from a broad spectrum of consumers.

Chordana Composer is an app that allows anyone to easily create their very own original music—even if they do not know how to compose music or play an instrument. The user simply records himself or herself singing or whistling a tune for two musical bars, and the app automatically composes an entire piece of music based on that melody. The finished music not only can be played back for the user's enjoyment, but it can also be emailed as an audio file to friends.
Music can be composed even without the ability to write music or play an instrument
To use Chordana Composer, the user simply thinks of a two-bar melody and records it on his or her iPhone, either by singing or whistling the motif. Then the user selects from the app's five different music genres and three types of melodic settings, and finally presses the Auto Compose button to create an original piece of music complete with an intro and ending. The position of the motif in the musical piece can also be specified as A (1st theme), B (2nd theme), or C (3rd theme).
Equipped with functions for making the most of musical skills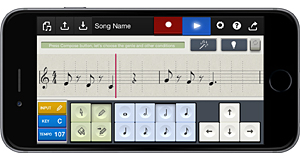 Notation input interface
Users can also input the motif by playing the app's keyboard interface or by entering notes in a score on the notation input interface. Moreover, melodies in the finished piece of music can be edited in the score. When the Hints function is used to edit a melody, notes are color coded as five types according to their relation to the music, including attributes such as whether a note is in the chord or the degree of musical tension it creates.
Connectivity with Casio's Light-up Keyboards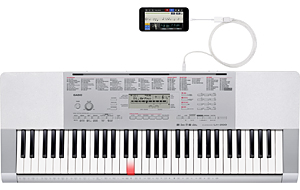 Sample of use when connected
to key lighting keyboard
Chordana Composer can be connected to MIDI-compatible electronic musical instruments.*3 If it is connected to one of Casio's electronic keyboards with light-up keys, the melodies in the pieces created by Chordana Composer will light up with the music.
*3 A commercially available MIDI interface or adapter is necessary. Please see the Main Specifications for details.
To celebrate the new release of Chordana Composer, Casio is offering the app at a 40% discount from the regular sales price for a limited time, from January 30 to February 12.*4
*4 Casio extended the final date of the discounted price period from February 5, as originally announced, to February 12 to celebrate Chordana Composer's number-one ranking in the App Store's paid iPhone music app category up until February 4 in seven areas, including Japan (the date of attaining the number-one ranking differed depending on the area).
Casio Music Apps Website

Main Specifications
Motif input

Select input mode

Keyboard input: 17 keys
Notation input
Microphone input: Whistling, female voice or male voice

Specify motif input location

A (1st theme), B (2nd theme) or C (3rd theme)

Motif Length

Notation input
and
Microphone input

2 Measure

Keyboard input

Default: 2 Measure
Selection: 1 Measure, 2 Measure, 4 Measure, 8 Measure

Automatic composition

Select genre

Pops, Dance, Rock, Jazz, World

Select impression

Joyful, Ballad, Groove

Tempo

Default: 107
selection: 60–280

Key

Default: C
Selection: F, F#/G♭, G, G#/A♭, A, A#/B♭, B, C, C#/D♭, D, D#/E♭, E

Time Signature

4/4 meter

Others

Range of melody movement, Level of melody tension

Player

Functions

Play/Stop, AB repeat, Record motif, Select timbre of each part, Part on/off

MIDI OUT

Functions

Melody (right hand) MIDI output

Connection

iOS-compatible MIDI interface (commercial product)
or Lightning to USB Camera Adapter (Apple) with USB cable (commercial product)
or Apple iPad Camera Connection Kit with USB cable (commercial product)

Others Functions

Share tune (sends audio file by email), Save tune

System requirements

iOS 8.0 or later

Compatible devices

iPhone 5, iPhone 5c, iPhone 5s, iPhone 6, iPhone 6 Plus, iPod touch (Generation 5)
Apple and iPhone are trademarks of Apple Inc., registered in the U.S. and other countries.
App Store is a service mark of Apple Inc.
Other product names and so forth are generally trademarks or registered trademarks of the respective companies.